To celebrate our 25th anniversary, we're giving away a new set of books every month. Enter now for your chance to win a bundle of our most iconic books from the twenty-tens, including:
I MOVED YOUR CHEESE by Deepak Malhotra,
WHAT TO DO WHEN THERE'S TOO MUCH TO DO by Laura Stack
HUMBLE INQUIRY by Edgar Schein
HOW THE POOR CAN SAVE CAPITALISM by John Hope Bryant
THE SISTERS ARE ALRIGHT by Tamara Winfrey Harris!
I Moved Your Cheese (2011)
by Deepak Malhotra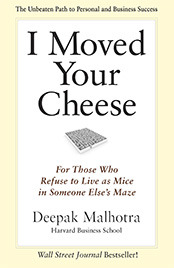 I Moved Your Cheese was the first serious challenge to the best-seller Who Moved My Cheese? Harvard Business School professor and bestselling author Deepak Malhotra tells an inspiring story about a new generation of mice who begin to challenge assumptions and ask important questions. Rather than just accepting their situation and dutifully chasing the cheese, Max, Zed, and Big begin looking deeper, examining and reassessing what theyve been told are their limitations, and set out to chart a new course..


What To Do When There's Too Much to Do (2012) by Laura Stack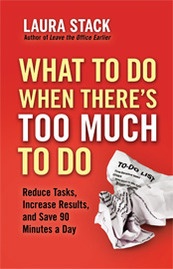 Productivity expert Laura Stack shows how to separate the productive wheat from the nonproductive chaff to hone in on the high-value tasks, protect the time to do them, and focus on their execution. Throughout this book, readers will learn how to scale back; reduce, reduce, reduce is Stack's mantra. Stack offers dozens of ways to shrink your to-do list, calendar commitments, distractions, interruptions, information overload, inefficiencies, and energy expenditures. Each reduction will increase your results and save you time.



Humble Inquiry (2013) by Edgar Schein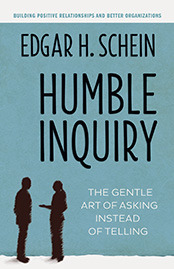 In this seminal work, Schein explores the various types of humility, contrasts Humble Inquiry with other kinds of inquiry, shows the benefits Humble Inquiry offers in many different settings, and offers advice on overcoming the cultural, organizational, and psychological barriers that keep us from practicing it. This is a major new contribution to how we see human dynamics and relationships, presented in a compact, personal, and eminently practical way.



How the Poor Can Save Capitalism (2014) by John Hope Bryant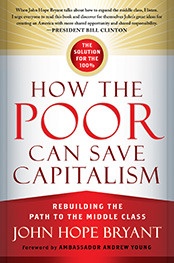 The poor are not stupid or lazy, Bryant writes. They've simply been abandoned. Business loans, home loans, and financial investments have vanished from their communities. After decades of deprivation they lack bank accounts, decent credit scores, and any real firsthand experience of how a healthy free enterprise system functions.
Bryant exposes the historical roots of this unfortunate situation, why the solutions tried so far have proved insufficient, and how to move forward. He lays out what he calls a Marshall Plan for our times, a series of straightforward, actionable steps to build financial literacy and expand opportunity so that the poor can join the middle class.

The Sisters Are Alright (2015) by Tamara Winfrey Harris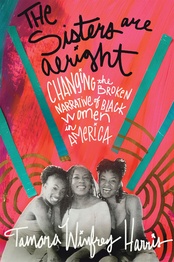 What is wrong with black women? Not a damned thing but the biased lens most people use to view them, says Tamara Winfrey Harris.
The Sisters Are Alright delves into areas such as marriage, motherhood, health, sexuality, beauty, and more. And using progressive author analysis brought to life by the stories of real women, it reveals the effects of anti–black woman propaganda and how real black women are living their lives and pushing back against distorted cartoon versions of themselves.
**This contest runs now through November 30th. Check back next month for a new giveaway!**
*NO PURCHASE NECESSARY. Enter between 12:01 am (PST) November 1st, 2017 and 11:59 pm (PST) November 30th, 2017. One entry per person. Open to US residents who are 18 and older. Void where prohibited or restricted by law. See Official Rules for full details.*